Mavea Purity Quell ST Water Filtration Starter Kits
Top standard water filtration

The 4-stage filtration in the PURITY Quell ST prevents limescale deposits and ensures consistently high water quality. This means you can rest assured that your high-quality equipment provides maximum performance 24 hours a day. Consistent water quality over the entire service life of the filter and reliable removal of unwanted tastes and odors ensures exceptional quality and a unique taste for your drinks and dishes.
PURITY Quell ST technology
The PURITY Quell ST with 3 different filter sizes ensures reliable removal of scale-forming substances, as well as unwanted odors and flavors, and chlorine and heavy metals, thereby offering optimal product quality and long machine running times. Moreover, the filter in the water safely retains any coarse and fine particles. The PURITY concept is based on a simple idea: For every type of problematic water in the professional restaurant industry, MAVEA offers a simple solution, tailored towards the specific problem a filter from the PURITY family, simple and uncomplicated.

IntelliBypass technology
The unique IntelliBypass technology allows for a constant by-pass water rate irrespective of the volumetric flow. This ensures a consistently high water quality, particularly in case of low water throughput rates.
Filtration stages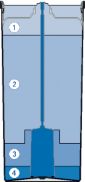 1. Pre-filtration

The expansion media removes coarse particles

2. Temporary hardness reduction

An ion exchanger reduces the temporary hardness content and prevents scale deposits

3. Activated carbon filtration

Substances that can impair taste and odor are eliminated

4. Fine filtration

Retains small particles
---